Wish you could run for your workouts? Here's how to get started.
A lot of visitors to the Island run outdoors to embrace the Cayman breeze and scenery. It can be an enjoyable and effective workout that burns serious calories, relieves stress, and keeps the heart healthy while on vacation. A 150-pound person can expect to burn 272 calories in a half hour of slow-paced jogging, but pick up the pace and you can burn well over 400 calories in a half hour.
Enticing as the calorie burn may be, running isn't for everyone. Because of the constant pounding on your feet, if you have joint problems, shin splints, or plantar fasciitis you'd do better with a low-impact form of exercise.
If your body is in good shape for running and you're ready to add it to your routine, here are a few tips to get started.
Bring Your Running Shoes on Your Cayman Vacation:
Running is a workout that doesn't require a lot of expensive equipment, but one thing it does require is a good pair of running shoes. Wearing poor quality shoes increases your risk of injury. Get your feet fitted for a shoe that best supports the shape of your foot and the gait of your run. A pair of quality running shoes is an investment you won't regret and will help you stay running for miles to come.
Set Goals:
What do you hope to accomplish by running while on vacation? Some people want to get in shape, compete in a 5K race back home, lose weight or maybe you just want to experience Cayman's scenic views along seven mile beach. Whatever your goal, write it down and post it where you can see it. Then let that goal fuel your next run.
Make Plans:
Mark the days and specific times on your calendar when you plan to run while on vacation. Unless you'll be on a treadmill, map out your route. Use an app on your phone or a notebook to record each run's distance, time, and how you felt during and after the run.
Eat Right:
At least half an hour before a run, fuel your body with a snack that includes carbs for energy. After your workout, replenish your muscles with a snack or meal made with protein and carbs. Be sure to drink water before, during, and after your workout to avoid dehydration.
Warm Up/Cool Down:
Start each run with a short warm-up and end your workout with a cool-down period. This might be a brisk walk or a slow jog that gradually gets your muscles ready for exercise and then slowly brings your heart rate and breathing back to normal.
Get Started:
You may need to start out walking and gradually increase your speed and distance over time. Running too fast or too far too soon will lead to injury and burnout. So look online or work with your trainer to find a running plan that takes you from your current fitness level to where you want to be.
Please do me a favor – All I ask is that you #Maximize your Cayman experience and have fun 🙂
Coach Alton's Vacay Fit Games Mission: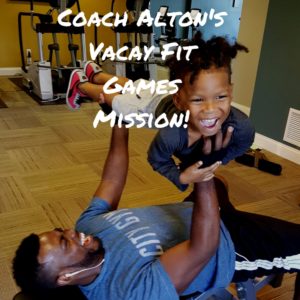 Coach Alton's dream is to inspire kids who are facing adversity to triumph and become their best, this is due to his own trials he faced as a youngster with lack of guidance and leadership support. This dream led him to create Coach Alton's Vacay Fit Games, where he will raise funds to support youth development programs on Island to allow his clients "CAYMAN TOURIST" to avoid the vacay weight gain by competing to WIN & donate 50% of their class fees to MAKE A DIFFERENCE IN THE LIVES OF KIDS. 2nd place onward will donate $1.00. #WorkoutToMakeADifference
Game/Class Highlights:

1.Each participant becomes a HERO – Winners of game/class donates 50% of class fees and 2nd place onwards donates $1.00 each to youth development programs.
2.Only Aquafit Circuit Fit Game In the WORLD
3.Brings like minded HERO'S together for a common cause/goal
4.Teaches Cayman visitors about the island with a point based quiz
5.Points are earned with water resistant tracking devices
6.Infuse water is included
Class Schedule:

Monday – 7am – 8am: Governor's Beach
Tuesday – 7am – 8am: Governor's Beach
Thursday – 7am – 8am: Governor's Beach
If your those who feel called to make a difference and inspire change in the life of the kids, then this is the challenge for you.
Don't just workout, #JoinTheMovement
and let's #WorkoutToMakeADifference together.